SQEPpay UK Cloud Payroll Platform
SQEPpay is an intuitive payroll solution that saves you time, money, and offers effortless system integration.
Manage everything payroll related in just a few clicks with a user friendly solution that offers automation, API integration, competitive pricing and outstanding support.
SQEPpay is a modern UK Cloud Payroll solution, fully integrated with HMRC for RTI submission as well as Cornerstone's CHR module, e-days Absence Management & Kronos Workforce Management, along with a growing number of accounting and pension solutions.
Modern, intuitive user interface
SQEPpay saves you time, frustration and helps avoid mistakes by offering a simple and intuitive UI that puts business critical information front and centre.
Depth of functionality
SQEPpay gives you all critical features of a mature payroll solution and more to help you manage all different aspects of payroll effortlessly and reliably.
API integration
SQEPpay seamlessly integrates with other systems including many accounting, payment & pensions products, and Cornerstone's CHR module.
Automation
SQEPpay simplifies payroll tasks; automates calculations, compliance, and payments; and saves you considerable time and resources.
Competitive pricing
SQEPpay is a cost effective solution for all businesses, small or large, with no extra charge for additional features like auto-enrolment and benefits.
Outstanding support
Our experts will be your extended team to support you every step of your journey so you can get the most value out of your solution.
We have included all the must have payroll features and many more to help you automate time-consuming processes while saving valuable time for your team.
Payroll Automation
Eliminate the cost and time associated with routine tasks by using our unique Auto Pilot feature.
Painless Year End
End your tax year and start your new one in just a couple of clicks. Or even just a single call to the Payroll API.
Pension Management
Manage multiple pensions schemes, supporting Relief At Source, Salary Sacrifice and Net Pay arrangements.
Customisable Payslips
Get PDF Payslips looking just how you want them with customisable CSS.
Comprehensive Reports
As well as statutory reports such as P30, P32 & P11s, we provide lots of other insightful reports.
Real Time Information Reporting
Real Time Information (RTI) is designed to make PAYE submissions to HMRC more efficient – you need to submit information to HMRC in real time, every time you make a payment.
Accounting Integration
Automatically post journals to your accounting software to make your accounting easy and totally painless.
End to End Connected
Integrated with a growing number of products, from accounting to pensions and payments.
Cornerstone CoreHR Integrated
Seamless management of your user record made easy with the custom built integration from Cornerstone CHR module.
e-days Absence Management Integrated
Automatically send holidays into payroll to make your pay calculation totally seamless.
Kronos Workforce Management Integrated
Manage your workforce in Kronos and automatically send your data into payroll; simple and seamless process for your payroll team.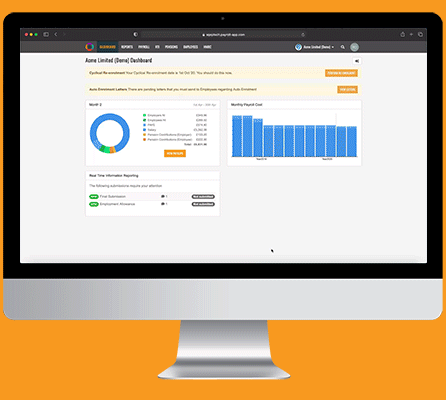 HMRC Recognised Payroll Software
Whether you need to run payroll for 50 employees or 5000, SQEPpay payroll makes it easy. Our web-based payroll software is recognised for its simple setup, vast array of features, and comprehensive API for seamless integration with a range of systems.